Farm Trail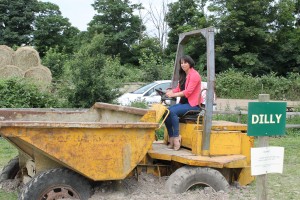 Welcome to Hall Farm's exciting new farm trail which was opened on Friday 20th June 2014 by the Olympic gymnast and 'Dancing on Ice' star, Beth Tweddle, MBE. Our farm trail is a wonderful walk for everyone. There's Dilly the Digger to clamber on, and be sure to look out for the Hall Farm tyre monster! For those a little less energetic, there are lovely spots to stop and stare, relax, and take in the beautiful Dedham Vale surroundings. Entry to the farm trail is free, but you might wish to buy some animal food from the shop before you set out on your walk. The geese are particularly partial to the bread chunks!
Schools and Groups
We very much welcome schools and groups to our farm trail. It provides a fantastic, healthy education. We would be happy to arrange talks from John Barrie, the Owner and Farmer of Hall Farm and also Sheila the Sheep Shearer. There's so much to take in on our farm trail – the vintage farm machinery, the wildlife, how we farm in Suffolk, stories about the seasons and fun tales of the quirky farm animals! We can also provide food and drinks for whatever your requirements might be. Please call Hall Farm Café Restaurant for more information about bringing your school or group to our farm trail.
Picnics and Hampers
You might like to take a picnic out for your walk around the farm trail. Hall Farm Shop can offer all things delicious to pack up and take with you – from children's lunch boxes (£4.25) to scrumptious hampers (prices vary depending on your requirements). Orders for hampers and children's lunch boxes are to be placed two days before 2.30pm. Please ask in the shop for details or call 01206 322572.
Farm Trail Opening Times Monday to Sunday, 10am-4pm (weather dependent), entry is free.
Snack Shack
Hot and cold drinks, ice-creams and snacks are all available during the summer holidays in the Snack Shack. The Snack Shack can be used to eat your delicious hamper, picnic or lunch box that you ordered from the shop. Orders for hampers and children's lunch boxes are to be placed the previous day before 2.30am. Please ask in the shop for details or call 01206 322572.
Look out for future event including tastings in the Snack Shack, or sign up for our newsletter (quickly done on our home page). If you are looking for the ideal location for your son or daughters birthday party, look no further than Hall Farm. The Snack Shack will have a limited number of table and chairs for children to use if the weather changes during a party. Rain or shine, we try to make sure that the day goes well for them.
Snack Shack Opening Times Monday to Sunday, 10am-4pm during the summer holidays and until the end of September. All other times (when schools are back – term time) the Snack Shack will be open Thursday-Sunday