A Stars and Stripes Evening of GREAT Food and MUCH Fun!
This entry was posted on Friday, March 20th, 2015

On Saturday July 4th, 2015 – it will be 9 years to the very day, since we first opened the doors of our wonderful Café Restaurant. We felt this was a great reason to throw a party, and since this day falls on a rather grand US celebration, we thought we would go all out American!
Some say the American's make the best burgers, but we believe Hall Farm does that! Of course, we'll be having one of our famous Hall Farm BBQ's at out American themed party evening, along with a bar and lots of dancing! The live music will come courtesy of The Korrandos – an amazing group which plays 50's and 60's music. (Think Grease!)
Our Farm Trail will also be open (while we have daylight), so a chance to work up a hearty appetite for our fabulous BBQ.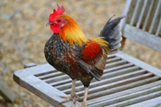 Gather your friends and family, and make it a really great night to remember! You might even want to don your stars and stripes or your pink lady outfits, but whatever you decide on, you can be sure of an evening you'll be talking about in years to come.
Come and join us for our star-spangled evening on Saturday 4th July 2015. Tickets are just £5 per person and under 8's go free. Please call Hall Farm to book – 01206 323600.