Hall Farm is a working mixed farm that has been the home of, and run by, the Barrie family for over three generations since 1929. Positioned on the Suffolk and Essex border, with the river Stour running through the farms fields, the shop is ideally situated at Stratford St Mary, the gateway to Constable Country.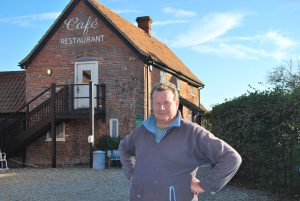 The farm shop was opened in 2001 responding to a demand for high quality local produce at reasonable prices. This enabled Hall Farm to retail their prize winning beef and lamb, farmed with sympathetic methods and a high level of animal husbandry, direct to their customers. As well as the livestock, the farm currently plants, grows and harvests 6 acres of potatoes, all of which are retailed through the shop.
The shop has changed dramatically in 12 years of retailing. Starting in the end of a stable block, we have now expanded through the whole of the barn.  The addition of chillers, deli counters and gifts to the large range of vegetables, fruit and eggs, enabled the shop to appeal to a wider customer base. It now has an extensive range of quality produce, and has become the perfect place to do the weekly food shop.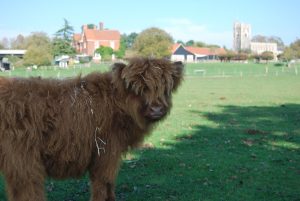 Following on from the popularity of the shop, Hall Farm Café Restaurant was opened in 2006, situated in a tastefully converted 16th Century cattle byer. The chefs pride themselves on sourcing and using as much local and seasonal produce as they can, with Hall Farm beef, lamb and potatoes regularly on the menu. They home-make and bake everything, and offer a breakfast and lunch menu, daily specials and fabulous cakes to accompany morning coffee or afternoon tea. The front of house staff always offers a warm welcome, and the most amazing views across the Dedham Vale await you! There is plenty of seating both inside and outside (in the courtyard) with a safe area for children to play.
It was always an ambition that Hall Farm meat could return to the farm for butchering, so the animals could finish their cycle where they started, with less food miles. After building work and alterations to the shop in 2009 in preparation for the inclusion of butchery facilities, our own Butchers was opened in April 2010. Hall Farm now offers our own Hall Farm beef and lamb, fully traceable from birth to the butchers counter, along with a fabulous selection of quality local meats.
Not ones to stand still, Hall Farm will continue to develop and change through the coming years, and we sincerely hope you will share that journey with us.